American Black Film Festival and IMDb Presents New Digital Series – Hollywood Homecoming – Premiering April 1, 2021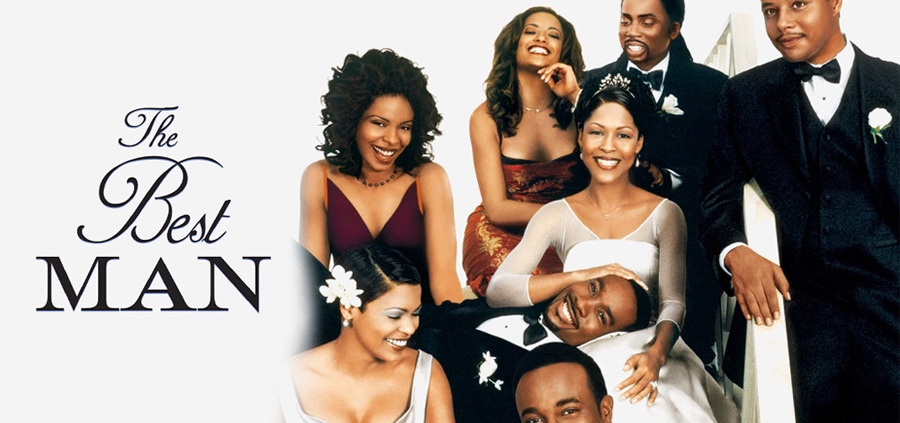 The Best Man Kicks Off Series Reuniting Directors and Stars of Iconic Black Films
LOS ANGELES, CA, (January 14, 2021) – American Black Film Festival (ABFF) announced a new series, Hollywood Homecoming, in collaboration with IMDb, the world's most popular and authoritative source for information on movies, TV shows, and celebrities. The new series will bring together the director and cast and pay homage to iconic films that showcase Black humanity and provide balanced portrayals of the African American experience. Hollywood Homecoming will premiere during Black History Month, with the quintessential Black romantic comedy, The Best Man.
Director Malcolm D. Lee will be reunited with cast members Morris Chestnut, Monica Calhoun, Melissa DeSoussa, Terrence Howard, Harold Perrineau, Taye Diggs and more, to share stories and memories about the film, which served as a launching pad for several of their careers.
Hosted by Nischelle Turner (Entertainment Tonight), Hollywood Homecoming: The Best Man will broadcast on ABFF PLAY (www.abffplay.com), a free streaming platform focused on Black culture. The first two episodes of Hollywood Homecoming will also simulcast on the IMDb (https://www.IMDb.com) homepage, as well as the IMDb Twitch (https://www.twitch.tv/imdb) and social media channels by following @IMDb. Hollywood Homecoming: The Best Man will premiere on Wednesday, February 17, 2021 at 3:00 PM PST. Jeff Friday Media is producing the series.
Fan engagement will also be an essential part of the series, with a segment entitled "Fan Mail." Viewers are invited to share their memories of how the film and cast touched their lives or how they would imagine themselves in one of the iconic scenes. Fandom videos can be submitted in advance to [email protected] by January 20th.
"We created Hollywood Homecoming to highlight the indelible impact that Black films have had on American culture. Congratulations to Malcolm Lee and The Best Man's incredible cast for creating a movie that's stood the test of time and proves that Black Films Don't Crack", says Jeff Friday, Series Creator.
"'The Best Man' is incredibly special to me: it was my first feature and truly a story and characters that came from the heart representing images of Black culture that I felt was missing on screen. We cast incredible actors and the support for this film from the movie going audience, as well as from ABFF, was groundbreaking. It's very fitting more than 20 years later, it's still a fan favorite and the cast and I have this amazing opportunity to engage with fans globally through 'Hollywood Homecoming' to share behind the scenes stories of the franchise. It's going to be a great time," says director, producer, and screenwriter Malcolm D. Lee.
---
ABOUT JEFF FRIDAY MEDIA:
Jeff Friday Media (JFM) is a production company founded by American Black Film Festival producer Jeff Friday in 2019 as a platform to license and produce a diverse portfolio of feature films, unscripted television and digital content. The studio's output will focus on Black and brown audiences, and is designed for dissemination across an array of platforms including major studio partnerships, streaming platforms, traditional broadcast and cable television networks. The company recently announced a first-look production deal with Sony Pictures Entertainment.
ABOUT ABFF:
The American Black Film Festival (ABFF) is an annual event dedicated to recognizing black talent and showcasing quality film and television content by and about people of African descent. Dedicated to the belief that diverse artists deserve the same opportunities as their mainstream counterparts, ABFF founder Jeff Friday conceived the festival in 1997 as a vehicle to strengthen the black entertainment community by fostering resource sharing, education and artistic collaboration.
Now in its 25th year, the festival has become a cornerstone of diversity in Hollywood, providing a platform for emerging black artists – many of who have become today's most successful actors, producers, writers, directors and stand-up comedians, including Ryan Coogler (Black Panther), Will Packer (Girls Trip), Issa Rae (Insecure), Kevin Hart (Night School), Omari Hardwick (Power) and Steven Caple Jr. (Creed II). The ABFF is the preeminent pipeline for Black artists in front of and behind the camera, and has significantly expanded the range of talent working in the entertainment Industry.
ABOUT IMDb:
IMDb is the world's most popular and authoritative source for information on movies, TV shows and celebrities. Products and services to help fans decide what to watch and where to watch it include: the IMDb website for desktop and mobile devices; apps for iOS and Android; and X-Ray on Prime Video. IMDb also offers a free streaming channel, IMDb TV, and produces IMDb original video series and podcasts. For entertainment industry professionals, IMDb provides IMDbPro and Box Office Mojo. IMDb licenses information from its vast and authoritative database to third-party businesses worldwide; learn more at developer.imdb.com. IMDb is an Amazon company. For more information, visit imdb.com/press and follow @IMDb.
---
PRESS CONTACT:
American Black Film Festival:
MPRM Communications
[email protected]
323-933-3399
https://www.nicecrowd.com/wp-content/uploads/2021/01/news-Hollywood-Homecoming.jpg
650
900
nicecrowd
https://www.nicecrowd.com/wp-content/uploads/2023/06/Nice-Crowd.png
nicecrowd
2021-01-14 10:07:28
2021-01-14 10:07:28
American Black Film Festival and IMDb Presents New Digital Series – Hollywood Homecoming – Premiering April 1, 2021