Greater Miami Convention & Visitors Bureau and American Black Film Festival Announce Festival Return to Miami June 15-19, 2016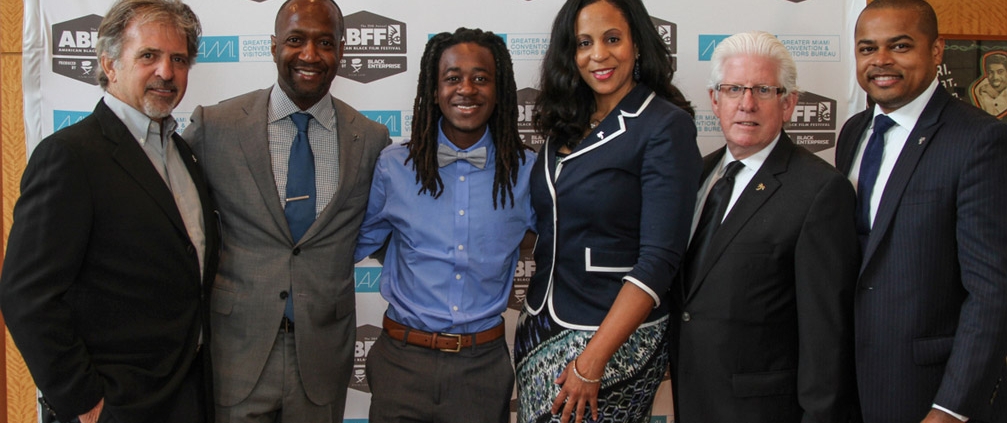 American Black Film Festival returns to Greater Miami and The Beaches with a three-year commitment starting with Festival's 20th Anniversary June 15-19, 2016
MIAMI, FL – (August 11, 2015) – Greater Miami Convention & Visitors Bureau (GMCVB) President & CEO William D. Talbert, III, CDME and American Black Film Festival (ABFF) Founder Jeff Friday officially announced today the return to Miami of the American Black Film Festival (ABFF) June 15-19, 2016. The ABFF will celebrate its 20th anniversary with an exciting line-up of film screenings and an extensive schedule of events and networking opportunities to be announced in the months ahead. The highly anticipated ABFF is considered the nation's largest gathering of Black film and TV enthusiasts. "We are thrilled with the return of the American Black Film Festival to Miami and look forward to welcoming the thousands of attendees expected for this highly anticipated event," said Talbert. "The diverse multicultural fabric of our community will provide the ideal setting for the festival's 2016 milestone celebration." The 2016 ABFF will coincide with the GMCVB's fourth annual Miami Film Month and includes a commitment by the ABFF to hold their annual event in Miami for the next three years. "I am so happy to celebrate the American Black Film Festival's 20th anniversary in Miami next year," said ABFF Founder Jeff Friday. "Aside from being one of the most desirable destinations in the world and a big attraction for festival-goers, the community has always embraced ABFF and its mission to showcase and provide a platform for African Americans in film and television. 2016 marks our eleventh festival in Miami and I'm proud to call the GMCVB a committed partner. We look forward to the celebratory four day weekend with tremendous enthusiasm – it's great to be back!"
About the Greater Miami Convention & Visitors Bureau
The Greater Miami Convention & Visitors Bureau (GMCVB) is an accredited, independent not-for-profit sales and marketing organization whose mission is to attract visitors to Greater Miami and the Beaches for leisure, business and conventions. To get further engaged with Miami and the Beaches, join the conversation by following us on our social media channels at Facebook.com/visitmiami, Twitter.com/miamiandbeaches, Instagram.com/miamiandbeaches and Pinterest.com/miamiandbeaches.
About the American Black Film Festival
The American Black Film Festival (ABFF) is an annual event dedicated to bringing awareness of quality entertainment content made by and about people of African descent to a worldwide audience. Committed to the belief that Black artists deserve the same opportunities as their mainstream counterparts, ABFF founder Jeff Friday conceived the festival in 1997 as a vehicle to promote diversity in the film and television industry. Today the festival is widely recognized for showcasing new talent, both in front of and behind the camera. Through its film screenings and prestigious talent competitions, including the HBO Short Film Award, it annually introduces the top echelon of emerging artists to the industry at large. The ABFF is regarded as one of the leading film festivals in the world and will celebrate its 20th anniversary June 15-19 in Miami Beach, Florida. The event is produced by Film Life Inc. and Black Enterprise through its partnership, ABFF Ventures LLC. For more information, visit www.ABFF.com.
CONTACT:
Media Relations – 305 539-3084
Jennifer Diaz – 305 539-3111
Ginny Gutierrez -305 213-1613
https://www.nicecrowd.com/wp-content/uploads/2015/08/ABFF-Returns-to-Miami-2.jpg
540
1007
nicecrowd
https://www.nicecrowd.com/wp-content/uploads/2023/06/Nice-Crowd.png
nicecrowd
2015-08-11 11:25:33
2015-08-11 11:25:33
Greater Miami Convention & Visitors Bureau and American Black Film Festival Announce Festival Return to Miami June 15-19, 2016