Turner Partners with American Black Film Festival to Launch New Writing Contest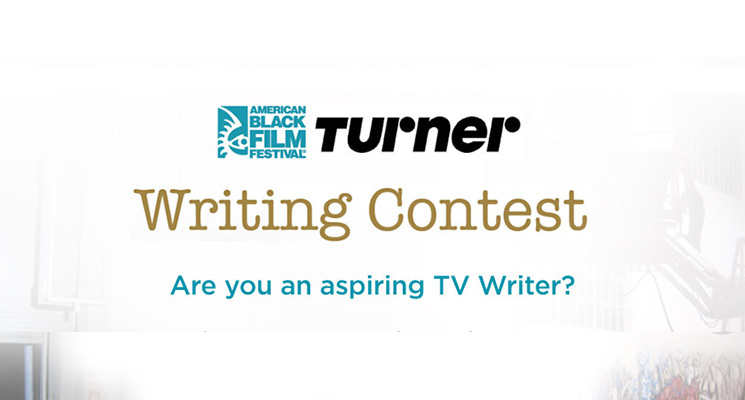 Turner Also Plans Executive Skills Session for June 14-18 Festival, Kicking Off Three-Year Agreement to Support ABFF as Premier Sponsor
February 6, 2017 – Global media company Turner is partnering with the American Black Film Festival (ABFF) on a new writing contest designed to discover fresh writing talent from racially diverse backgrounds. Through the ABFF & Turner Writing Contest, writers with no professional television experience are invited to submit pilot scripts for comedy or drama series. One winner chosen from each genre will win a trip to Miami for the 2017 American Black Film Festival, which takes place June 14-18, along with a cash prize and the opportunity to meet with the original programming development teams for Turner's TBS & TNT.
"TNT and TBS are fully committed to expanding opportunities for storytellers from all backgrounds," said Sarah Aubrey, executive vice president of original programming for TNT. "The ABFF & Turner Writing Contest is an excellent way to find and nurture exciting new talent just waiting to be discovered."
The ABFF & Turner Writing Contest is the first element in a new three-year agreement through which Turner will support ABFF as a Premier Sponsor. In addition to collaborating on the contest, Turner will host an executive skills-building session during this year's festival. Slated to take place in the ABFF's Careers in Entertainment Center, the session will be followed by a recruitment fair to share information about current and future employment opportunities at Turner.
"We believe that attracting emerging business leaders who can bring a wide range of experience, ideas and perspectives to our networks is crucial to our continued success," said Angela Santone, executive vice president and global chief human resources officer for Turner. "We look forward to collaborating with the ABFF as we promote the importance of being inclusive in today's rapidly changing industry."
"We are thankful to Turner for investing in the future of our storytellers, who in turn help shape and reshape the images projected of Black America," stated Melanie Sharee, head of programming, ABFF. "They are committed to providing opportunities for creative talent, as well as for those seeking an executive path within the industry. We
are grateful for their partnership and commitment to the ABFF mission."
Although Turner's specific plans for the ABFF will vary from year to year, the company's activities will remain focused on telling inclusive stories that challenge racial divisions and providing a wide range of opportunities for new voices to be heard. Other Turner-related activities for this year's festival will be announced later.
The ABFF & Turner Writing Contest is open to U.S. residents who are over the age of 18 and members of a diverse or underrepresented community. Scripts must be submitted by April 5, 2017, in order to be considered. Additional details and contest rules are available at www.abff.com/turner-tv-pilot-contest/.
---
ABOUT ABFF:
The American Black Film Festival (ABFF) is an annual event dedicated to showcasing quality film and television content by and about people of African descent. It supports emerging artists to foster a wider range of images, stories and storytellers represented in the entertainment industry. The festival is committed to the belief that Black artists and content creators deserve the same opportunities as their mainstream counterparts. ABFF founder Jeff Friday conceived the festival in 1997 as a vehicle to promote diversity in the motion picture industry, and strengthen the Black filmmaking community through resource sharing, education, artistic collaboration and career development. Today, the ABFF is recognized as the preeminent pipeline to new Black talent, both in front of and behind the camera, and is regarded as one of the leading film festivals in the world. The ABFF is a property of ABFF Ventures, a multifaceted entertainment company specializing in the production of live events, television and digital content targeted to upscale African American audiences. For more information, go to www.ABFF.com.
Sponsors of the 2017 American Black Film Festival to date are HBO (Founding & Presenting); the Greater Miami Convention and Visitors Bureau (GMCVB) (Host& Presenting); TV One, Cadillac (Presenting); Comcast NBCUniversal and Turner (Premier); and American Airlines, Verizon (Official); Walter Kaitz Foundation (Industry Partner).
---
About Turner
Turner, a Time Warner company, creates and programs branded news, entertainment, sports, animation and young adult multi-platform content for consumers around the world. Turner brands and businesses include CNN/ U.S., HLN, CNN International and CNN.com, TBS, TNT, TCM, truTV, Cartoon Network, Boomerang, Adult Swim, Turner Sports, Bleacher Report, FilmStruck, Super Deluxe, iStreamPlanet and ELEAGUE.
https://www.nicecrowd.com/wp-content/uploads/2017/02/ABFF-Turner-Writing-Contest-1.jpg
400
745
nicecrowd
https://www.nicecrowd.com/wp-content/uploads/2023/06/Nice-Crowd.png
nicecrowd
2017-02-22 20:06:31
2017-02-22 20:06:31
Turner Partners with American Black Film Festival to Launch New Writing Contest