ABFF to Close Festival with Tupac Biopic ALL EYEZ ON ME, Starring Kat Graham, Hill Harper, Danai Gurira, Cory Hardrict and Demetrius Shipp Jr. as Tupac Shakur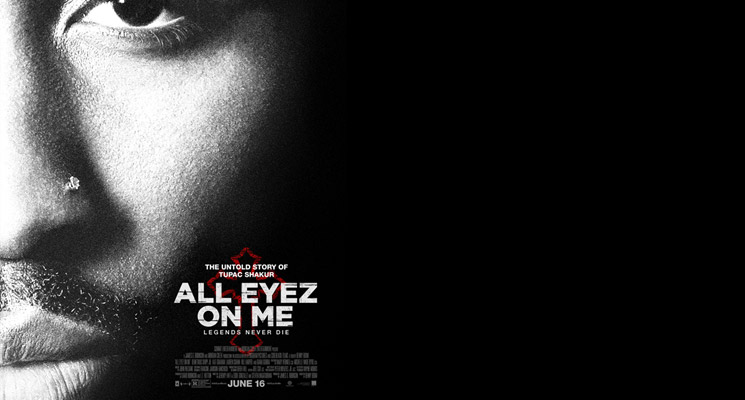 PRESENTED BY LIONSGATE FILMS, CODEBLACK FILMS AND MORGAN CREEK PRODUCTIONS
New York, New York (March 29, 2017) – The American Black Film Festival (ABFF) announced today that the biographical drama film, All Eyez On Me, from director Benny Boom, will close the festival on Saturday, June 17th. The closing night film is presented by Lionsgate, Codeblack Films and Morgan Creek Productions.
All Eyez On Me tells the true and untold story of prolific rapper, actor, poet and activist Tupac Shakur. The film follows Shakur from his early days in New York City to his evolution into being one of the world's most recognized and influential voices, before his untimely death at the age of 25. Against all odds, Shakur's raw talent, powerful lyrics and revolutionary mind-set propelled him into becoming a cultural icon whose legacy continues to grow long after his passing.
The film stars Kat Graham (Vampire Diaries, Addicted), Lauren Cohan (Batman v Superman: Dawn of Justice), Hill Harper (CSI: NY, Covert Affairs), Jamal Woolard (Notorious), Danai Gurira (Black Panther, The Walking Dead), Jamie Hector (The Wire, Paid in Full), Cory Hardrict (American Sniper, Destined) and Demetrius Shipp Jr. (#unlock'd) as Tupac Shakur. The producers are LT Hutton, David Robinson, and James G. Robinson.
"Lionsgate's Codeblack Films has committed a lot of resources to bringing Black stories to the screen and Jeff Clanagan, President of Codeblack Films, has been a long-time supporter of the festival. It's an honor to screen the highly-anticipated story of iconic rapper and poet Tupac Shakur as this year's closing film, and to support its director ABFF Alum, Benny Boom," says Jeff Friday, ABFF Ventures CEO.
To purchase passes, tickets for events, panels and screenings at the American Black Film Festival, log on to https://www.abff.com/miami/festival-passes/.
Join the conversation on social media by logging on to ABFF's multiple social media platforms:
Sponsors for the American Black Film Festival are HBO® (Founding and Presenting Sponsor); Greater Miami Convention & Visitors Bureau (Host and Presenting Sponsor); TV One, Cadillac (Presenting Sponsor); Comcast NBCUniversal, Prudential, McDonald's, Turner (Premier Sponsors); and American Airlines, Motion Picture Association of America (MPAA), Verizon (Official Sponsors); Planned Parenthood of America and OWN (Supporting Sponsors); Walter Kaitz Foundation (Industry Partner).
---
ABOUT ABFF:
The American Black Film Festival (ABFF) is an annual event dedicated to showcasing quality film and television content by and about people of African descent. It supports emerging artists to foster a wider range of images, stories and storytellers represented in the entertainment industry. The festival is committed to the belief that Black artists and content creators deserve the same opportunities as their mainstream counterparts. ABFF founder Jeff Friday conceived the festival in 1997 as a vehicle to promote diversity in the motion picture industry, and strengthen the Black filmmaking community through resource sharing, education, artistic collaboration and career development. Today, the ABFF is recognized as the preeminent pipeline to new Black talent, both in front of and behind the camera, and is regarded as one of the leading film festivals in the world. The ABFF is a property of ABFF Ventures, a multifaceted entertainment company specializing in the production of live events, television and digital content targeted to upscale African American audiences.
---
PRESS CONTACT:
Strategic Heights Media
Michelle Huff Elliott
[email protected]
212-634-7176
https://www.nicecrowd.com/wp-content/uploads/2017/03/All-Eyez-On-Me.jpg
400
745
nicecrowd
https://www.nicecrowd.com/wp-content/uploads/2023/06/Nice-Crowd.png
nicecrowd
2017-03-29 12:48:30
2017-03-29 12:48:30
ABFF to Close Festival with Tupac Biopic ALL EYEZ ON ME, Starring Kat Graham, Hill Harper, Danai Gurira, Cory Hardrict and Demetrius Shipp Jr. as Tupac Shakur