ABFF to Open with the World Premiere of Universal Pictures' GIRLS TRIP, Starring Regina Hall, Tiffany Haddish, with Jada Pinkett Smith and Queen Latifah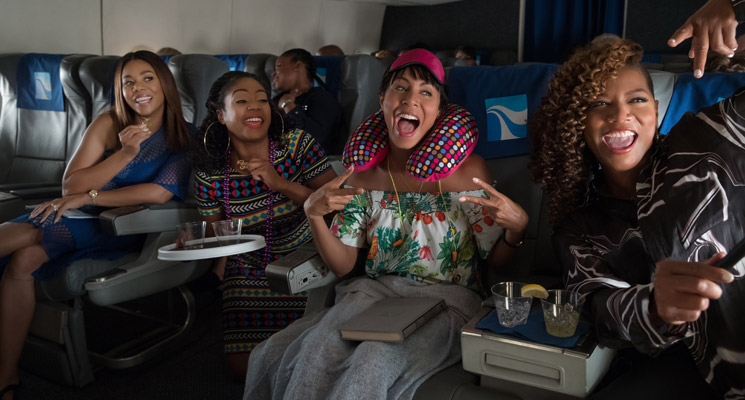 PRESENTED BY THE MOTION PICTURE ASSOCIATION OF AMERICA INC. (MPAA), COURTESY OF UNIVERSAL PICTURES
New York, New York (March 23, 2017) – The 2017 American Black Film Festival (ABFF) to open with the upcoming comedy Girls Trip on Wednesday, June 14, at the historic Olympia Theater in Miami. The world premiere of this opening night film, in advance of its nationwide release, is presented by the Motion Picture Association of America Inc. (MPAA), courtesy of Universal Pictures. Girls Trip arrives in theaters on July 21.
Producer Will Packer (Ride Along and Think Like a Man franchises, Almost Christmas) presents the new comedy from director/producer Malcolm D. Lee (The Best Man franchise, Barbershop: The Next Cut).
When four lifelong friends—Regina Hall (Think Like a Man, The Best Man Holiday), Tiffany Haddish (Keanu, A Christmas Wedding), with Jada Pinkett Smith (Gotham, Bad Moms) and Queen Latifah (Star, Bessie)—travel to New Orleans for the annual Essence Festival, sisterhoods are rekindled, wild sides are rediscovered, and there's enough dancing, drinking, brawling and romancing to make the Big Easy blush.
Larenz Tate (House of Lies), Kate Walsh (Private Practice), Mike Colter (Luke Cage) and Kofi Siriboe (Queen Sugar) co-star in the comedy directed from a screenplay by Black-ish creator Kenya Barris & screenwriter Tracy Oliver (Barbershop: The Next Cut), from a story by Erica Rivinoja (Trolls) and Barris & Oliver. James Lopez, head of motion pictures for Will Packer Productions, and Preston Holmes, executive produce.
Hashtag: #GirlsTrip
Website: www.GirlsTripMovie.com
"The MPAA is thrilled to once again sponsor the Opening Night film for the American Black Film Festival," said Senator Chris Dodd, Chairman and CEO of the Motion Picture Association of America. "For five years, the MPAA has partnered with the ABFF to diversify the creative pipeline, and I want to commend my good friend Jeff Friday and his team on their extraordinary work in presenting a wide array of diverse stories to the Festival audience. I would like to thank our member studio Universal Pictures for partnering with us to showcase their new film Girls Trip."
"We deeply appreciate Senator Dodd and the MPAA team's continued support of ABFF. Both the MPAA and Universal Pictures are genuinely committed to supporting diversity in the motion-picture industry, and we are excited to premiere Girls Trip to the ABFF audience on opening night. The film is produced by ABFF alum Will Packer and starring, among others, this year's ABFF ambassador, Regina Hall—as well as directed by longtime friend of the festival Malcolm D. Lee. We'll also be following up the screening with a dynamic 'ABFF First Look' panel discussion the very next day: the perfect combination to start this year's festival," said ABFF Ventures CEO Founder Jeff Friday.
To purchase passes, tickets for events, panels and screenings at the American Black Film Festival, log on to https://www.abff.com/miami/festival-passes/.
Join the conversation on social media by logging on to ABFF's multiple social media platforms:
Sponsors for the American Black Film Festival are HBO® (Founding and Presenting Sponsor); Greater Miami Convention & Visitors Bureau (Host and Presenting Sponsor); TV One, Cadillac (Presenting Sponsor); Comcast NBCUniversal, Prudential, Turner (Premier Sponsors); and American Airlines, Motion Picture Association of America (MPAA), Verizon (Official Sponsors); Walter Kaitz Foundation (Industry Partner).
---
ABOUT ABFF:
The American Black Film Festival (ABFF) is an annual event dedicated to showcasing quality film and television content by and about people of African descent. It supports emerging artists to foster a wider range of images, stories and storytellers represented in the entertainment industry. The festival is committed to the belief that Black artists and content creators deserve the same opportunities as their mainstream counterparts. ABFF founder Jeff Friday conceived the festival in 1997 as a vehicle to promote diversity in the motion picture industry, and strengthen the Black filmmaking community through resource sharing, education, artistic collaboration and career development. Today, the ABFF is recognized as the preeminent pipeline to new Black talent, both in front of and behind the camera, and is regarded as one of the leading film festivals in the world. The ABFF is a property of ABFF Ventures, a multifaceted entertainment company specializing in the production of live events, television and digital content targeted to upscale African American audiences.
ABOUT MPAA:
The Motion Picture Association of America Inc. (MPAA) serves as the voice and advocate of the American motion picture, home video and television industries from its offices in Los Angeles and Washington, D.C. Its members include: Walt Disney Studios Motion Pictures; Paramount Pictures Corporation; Sony Pictures Entertainment Inc.; Twentieth Century Fox Film Corporation; Universal City Studios LLC; Universal Pictures; and Warner Bros. Entertainment Inc.
---
PRESS CONTACT:
Strategic Heights Media
Michelle Huff Elliott
[email protected]
212-634-7176
https://www.nicecrowd.com/wp-content/uploads/2017/03/Girls-Trip-Movie.jpg
400
745
nicecrowd
https://www.nicecrowd.com/wp-content/uploads/2023/06/Nice-Crowd.png
nicecrowd
2017-03-23 07:30:18
2017-03-23 07:30:18
ABFF to Open with the World Premiere of Universal Pictures' GIRLS TRIP, Starring Regina Hall, Tiffany Haddish, with Jada Pinkett Smith and Queen Latifah