American Black Film Festival to Open Its 25th Year with Warner Bros. Pictures' King Richard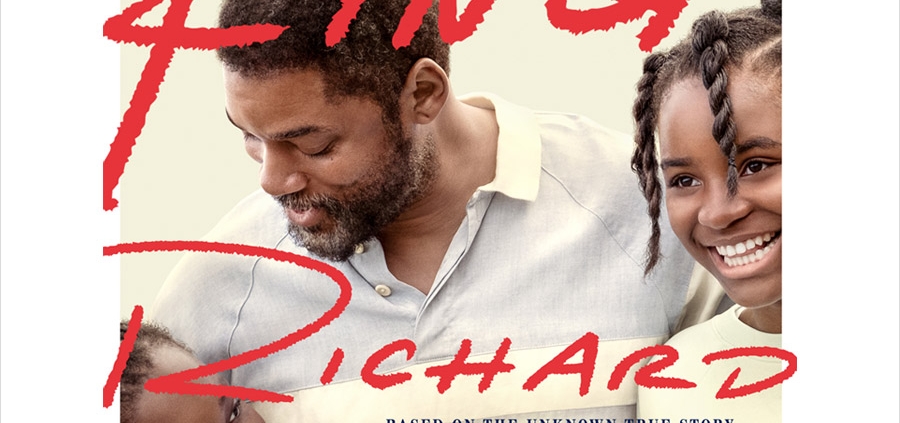 Starring Will Smith in the title role, with Aunjanue Ellis, Saniyya Sidney, Demi Singleton, Tony Goldwyn and Jon Bernthal
LOS ANGELES, CA, (October 15, 2021) – ABFF Ventures LLC announced today that the 2021 American Black Film Festival (ABFF) will open its milestone 25th year with Warner Bros. Pictures' eagerly anticipated film King Richard. The expanded 2021 festival will be available as a worldwide digital experience November 3-28 via its online platform ABFF PLAY. King Richard will be available by special invitation to a limited audience.
King Richard stars two-time Oscar nominee Will Smith, who also is the film's producer, as Richard Williams, the determined father of Venus and Serena Williams. The story follows the journey of their family, whose unwavering resolve and unconditional belief ultimately creates two of the world's greatest sports legends. Also starring are Aunjanue Ellis as the girls' mom, Oracene Wlliams, Saniyya Sidney as Venus Williams and Demi Singleton as Serena Williams, with Tony Goldwyn and Jon Bernthal as coaches Paul Cohen and Rick Macci. Directed by Reinaldo Marcus Green (Monsters and Men) from a script written by Zach Baylin, King Richard will be released in U.S. theaters and stream exclusively on HBO Max, November 19.
"It is with pride and excitement that we mark our 25th year opening with Warner Bros.' King Richard, a film that is a touchstone of ABFF's legacy of showcasing extraordinary Black talent and inspiring storytelling reflecting the brilliance of diversity in Hollywood," said Nicole Friday, president and general manager, ABFF Ventures LLC. "We're especially gratified to have the film's director, Reinaldo Marcus Green, a previous finalist in HBO's prestigious Short Film Competition, return to ABFF as feature film director — demonstrating the importance of the HBO pipeline in advancing the careers of Black artists. This event is simply a grand slam on every level."
"Having King Richard at ABFF this year is truly a full circle moment," stated Reinaldo Marcus Green. "Back in 2013, my short film Stone Cars, that I made while studying at NYU screened in competition and was distributed on HBO — so opening up the festival for ABFF's 25th anniversary means a lot to me. It's an absolute honor to return this year with our film. Thank you to Warner Bros. and the whole filmmaking team, the family we built on set, the Williams family for allowing us to tell their groundbreaking story and, of course, our wonderful crew and cast led by none other than Mr. Will Smith."
ABFF 2021 worldwide virtual experience will include over 100 independent films from 35 countries, spotlight screenings, talks and networking events featuring creators, artists and industry executives. Access to the festival is free. To register, visit https://www.abff.com/.
ABFF sponsors to date include Warner Media, HBO® (Founding) Cadillac, Greater Miami Convention & Visitors Bureau, Amazon Studios (Presenting); Comcast NBCUniversal, Sony Pictures Entertainment, American Airlines, AT&T, Facebook, IMDb (Premier); ALLBLK, HBOMax, City of Miami Beach, Netflix, Prudential Financial, TBS, Yahoo!, Starz, Warner Bros, Disney, National Geographic, and Variety (Official) Accenture, AspireTV, Motion Picture Association (MPA), Morgan Stanley, OWN (Oprah Winfrey Network) (Supporting). Media partners include BIN: Black Information Network, TheGrio and Rolling Out
For festival information visit and follow @ABFF on Twitter and @AmericanBlackFilmFestival on Instagram and Facebook. Join in on the conversation by using #ABFF. For information about media credentials, visit https://www.abff.com/pressroom/.
---
ABOUT KING RICHARD
Armed with a clear vision and a brazen 78-page plan, Richard Williams is determined to write his daughters, Venus and Serena, into history. Training on the abandoned tennis courts of Compton, California, rain or shine, the girls are shaped by their father's unyielding commitment and their mother's balanced perspective and keen intuition, defying the seemingly insurmountable odds and prevailing expectations laid before them.
The film is produced by Tim White and Trevor White's Star Thrower Entertainment and Will Smith's own banner, Westbrook. Isha Price, Serena Williams, Venus Williams, James Lassiter, Jada Pinkett Smith, Adam Merims, Lynn Harris, Allan Mandelbaum, Jon Mone and Peter Dodd are the executive producers.
King Richard is a Warner Bros. Pictures Presentation, A Star Thrower Entertainment Production, A Westbrook Production and A Keepin' It Reel Production and will be released in U.S. theaters and on HBO Max via the Ad-Free plan on November 19, 2021; it will be available on HBO Max for 31 days from theatrical release.
ABOUT ABFF
The American Black Film Festival (ABFF) is an annual event dedicated to recognizing Black talent and showcasing quality film and television content by and about people of African descent. Dedicated to the belief that diverse artists deserve the same opportunities as their mainstream counterparts, ABFF founder Jeff Friday conceived the festival in 1997 as a vehicle to strengthen the Black entertainment community by fostering resource sharing, education and artistic collaboration. Now in its 25th year, the festival has become a cornerstone of diversity in Hollywood, providing a platform for emerging Black artists – many of whom have become today's most successful actors, producers, writers, directors and stand-up comedians. The ABFF is a property of ABFF Ventures LLC, a division of Jeff Friday Media (JFM).
---
Media Contact:
Chelsye J. Burrows
Jeff Friday Media (JFM) and ABFF Ventures LLC
[email protected]
https://www.nicecrowd.com/wp-content/uploads/2021/10/news-King-Richard.jpg
650
900
nicecrowd
https://www.nicecrowd.com/wp-content/uploads/2023/06/Nice-Crowd.png
nicecrowd
2021-10-15 17:32:46
2021-10-15 17:32:46
American Black Film Festival to Open Its 25th Year with Warner Bros. Pictures' King Richard