Actress Jenifer Lewis will be honored at the ABFF's "Best of the ABFF" Awards Ceremony with a Career Achievement Award on Sunday, June 14 at the Hilton Midtown.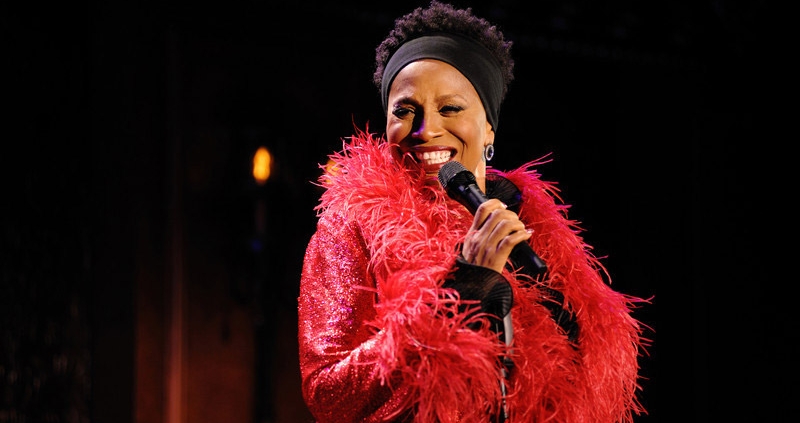 Jenifer Lewis is one of Hollywood's most familiar faces, with more than 300 appearances in film and television. Her latest movie, The Wedding Ringer (Sony Pictures), marks the fourth time she has starred alongside Kevin Hart. Known as the "Black Mother of Hollywood," Jenifer currently guest stars on the hit show Black-ish (ABC), in the recurring role of "Ruby."
Jenifer is a multi-talented entertainer who performed to an electrifying standing ovation at Carnegie Hall when she sang with the New York Pops orchestra in April 2014.
Recently, Jenifer appeared in Think Like A Man, Think Like A Man Too (Sony Pictures) and Baggage Claim (Fox Searchlight.) The Magic City, an independent film for which Jenifer won the Best Actress award at the BronzeLens Film Festival, will debut in 2015.
Jenifer delivered legendary performances as Tina Turner's mother in What's Love Got to Do With It and in The Preacher's Wife as the mother of Whitney Houston's character. She portrayed the distraught mother, "Candace," opposite Matt Damon in Clint Eastwood's Hereafter and for director Tyler Perry, Jenifer created unforgettable characters in Madea's Family Reunion and Meet the Browns. In the movie Castaway, Jenifer portrayed Tom Hanks' boss.
In animated films, Jenifer's uniquely recognizable voice is adored by Disney fans worldwide in roles such as "Flo" in Cars and Cars 2 and as "Mama Odie" in The Princess and the Frog.
Jenifer's TV roles have ranged from regular appearances as "Aunt Helen" on The Fresh Prince of Bel-Air to guest star roles on Friends, Boston Legal and Girlfriends. For six seasons, Jenifer portrayed "Lana Hawkins" on Lifetime's hit series Strong Medicine.
In September 2012, Jenifer premiered in a self-produced webseries, Jenifer Lewis and Shangela, available on YouTube.
Music and Theater
Although best known for her Hollywood success, Jenifer has enjoyed a wide-ranging and varied career in music and theater for more than 30 years. In 2013, Jenifer won a Bistro Award for her show titled Black Don't Crack, which drew standing-room only crowds to 54 Below cabaret in New York City.
Jenifer began performing on Broadway within one month of graduating with a degree in theater arts. Over the years, she has graced the Broadway stage in four shows, most recently in the hit show Hairspray as "Motormouth Maybelle." Also in New York, Jenifer enjoyed critical acclaim co-starring opposite Meryl Streep in the Shakespeare in the Park production of Brecht's Mother Courage and Her Children. In Seattle, Jenifer wowed audiences as Dolly Levi in the venerable 5th Avenue Theatre's production of Hello Dolly! In 2012, Jenifer returned to her hometown as a guest performer with the 90-piece St. Louis Symphony, accompanied by a chorus of more than 100 voices.
As a solo performer early in her career, Ms. Lewis toured colleges with her tribute From Billie to Lena and delighted audiences worldwide with a string of cabaret shows, including the award-winning The Diva is Dismissed. Briefly, she toured as a "Harlette" with Bette Midler. All told, Ms. Lewis has presented more than 200 concerts, performing in 49 states and four continents.
Giving Back
In addition to her achievements as a performer, Jenifer is committed to community issues. Having lost many friends to the AIDS epidemic, Jenifer is a forceful proponent for AIDS education and treatment and has performed at more than 15 AIDS walks around the country. Jenifer has presented four one-woman shows to raise funds for youth housing at the Los Angeles LGBT Center and in November 2014, the Human Rights Campaign recognized Jenifer with its Ally for Equality Award.
Jenifer also advocates on behalf of mental health issues. In 2007, Jenifer chose The Oprah Winfrey Show as a platform to reveal that she has bipolar disorder. She continues to speak nationally for the eradication of stigma against people with mental illness.
Jenifer was born and raised in Kinloch, Missouri. She holds a bachelor's degree in theater arts from Webster University in St. Louis, which will grant her an honorary doctorate in May 2015. Fans can follow Jenifer on Twitter (@JeniferLewis) and Facebook (Jenifer Lewis For Real.)
https://www.nicecrowd.com/wp-content/uploads/2015/04/Jenifer-Lewis-Photo-Credit-David-Rice.jpg
533
800
nicecrowd
https://www.nicecrowd.com/wp-content/uploads/2023/06/Nice-Crowd.png
nicecrowd
2015-04-29 15:26:25
2015-04-29 15:26:25
Actress Jenifer Lewis will be honored at the ABFF's "Best of the ABFF" Awards Ceremony with a Career Achievement Award on Sunday, June 14 at the Hilton Midtown.