DIRECTOR RICK FAMUYIWA'S "DOPE" TO HOST ITS NY PREMIERE AT THE 19th AMERICAN BLACK FILM FESTIVAL (ABFF) ON JUNE 11, 2015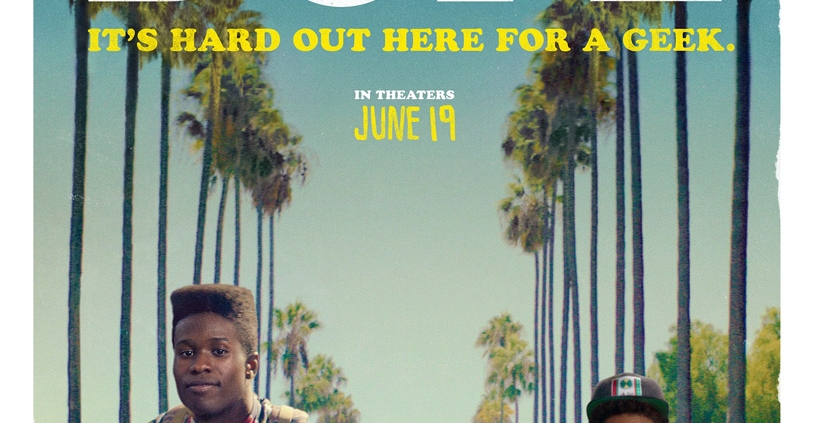 PRESENTED BY THE MOTION PICTURE ASSOCIATION OF AMERICA, INC. (MPAA), COURTESY OF OPEN ROAD FILMS
­-The American Black Film Festival's Exciting Slate of Events and Screenings Will Take Place at the New York Hilton Midtown, AMC Theatres and SVA Theatre June 11 – June 14, 2015
New York, New York (May 11, 2015) – Film director Rick Famuyiwa's critically acclaimed film, Dope, sponsored by the Motion Picture Association of America, will open the 19th annual American Black Film Festival (ABFF) on Thursday, June 11, at the SVA Theatre, 333 West 23rd Street, NYC. With its New York City premiere, Dope is one of the buzziest and most talked about film releases of the 2015 summer season.
ABFF CEO and Founder Jeff Friday says, "Dope couldn't be a more fitting film to open the festival. Rick Famuyiwa has taken a classic genre and told a unique story within it, combining all the elements that make a great film–outstanding writing, directing, cast and music. Our audience will truly enjoy the journey," The mission of the ABFF is to promote quality Black films to a wide range of audiences, and to encourage investment and artistic collaboration.
"We are excited to continue enhancing our ongoing partnership with the American Black Film Festival by sponsoring this year's Opening Night Film. I would like to give a big thank-you to our good friends at Open Road Films for collaborating with us to bring their fantastic film, Dope, to the festival audience. Having a film of this caliber, as well as exclusive previews from the MPAA's member studios' upcoming slate of films, will ensure a wonderful experience for all those in attendance," says MPAA CEO and Chairman Senator Chris Dodd.
Dope is a coming-of-age comedy/drama for the post hip-hop generation; its main characters are obsessed with '90s hip-hop. Malcolm (Shameik Moore) is warily surviving life in "The Bottoms" in Los Angeles, while juggling college applications, academic interviews and SATs. His dream is to attend Harvard. A chance invitation to an underground party leads him into a gritty adventure filled with offbeat characters and bad choices that could allow him to go from being a geek to being dope to ultimately being himself. Open Road Films will release the film nationwide on June 19, 2015.
Dope stars Shameik Moore, Tony Revolori, Kiersey Clemons, Blake Anderson, Zoë Kravitz, A$AP Rocky, Chanel Iman and Quincy Brown and is produced by Forest Whitaker and Nina Yang Bongiovi (Fruitvale Station). Pharrell Williams, Michael Y. Chow (Fruitvale Station), Rick Famuyiwa (The Wood, Brown Sugar) and David Lonner are executive producers. Sean "P. Diddy" Combs is co-executive producer, and Mimi Valdes and Caron Veazy are co-producers.
Following the screening, the ABFF will host an old-school hip-hop after-party to celebrate Dope at Stage 48, 605 West 48th Street, NYC. The evening will be hosted by the legendary Doug E. Fresh and perfectly mixed sounds provided by former Boogie Down Productions member DJ D-Nice. There will be special performances by iconic hip-hop artists throughout the party. Dope will also have an encore screening during the festival on Sunday, June 14, at the AMC Empire 25 Theatre on 42nd Street in New York City.
Sponsors of the 2015 American Black Film Festival to date are HBO® (Presenting & Founding); TV One and Cadillac (Presenting); Comcast NBCUniversal and Prudential Financial Services (Premier); AMC Theatres, American Airlines, McDonald's and TNT (Signature); Macy's (Official); ASPIRE, Motion Picture Association of America and UPtv (Supporting); RLJ Entertainment, SAGIndie and Walter Kaitz Foundation (Industry Partners); UPTOWN Magazine, EBONY and The YBF (Media Partners); NYCgo.com, New York Urban League Young Professionals, Madiba Harlem, MoMA and The JDot. Agency (Promotional Partners).
About ABFF:
The American Black Film Festival (ABFF) is a four-day event dedicated to showcasing quality film and television content by and about people of African descent. Annually held during the month of June, the ABFF is committed to the belief that Black artists and content creators deserve the same opportunities as their mainstream counterparts.
ABFF Founder Jeff Friday conceived the idea for the festival in 1997 as a vehicle to promote diversity in the motion picture industry.
Today, the festival is widely recognized for showcasing established and new Black talent, both in front of and behind the camera, and is regarded as one of the leading film festivals in the world. The ABFF is produced by Film Life Inc. and BLACK ENTERPRISE.
For festival passes, tickets and additional information, visit www.ABFF.com.
Twitter: http://twitter.com/abff
Facebook: http://www.facebook.com/pages/American-Black-Film-Festival/47321635722
Instagram: http://www.Instagram.com/AmericanBlackFilmFestival
#ABFF2015
Official Film Site: http://YouAreDope.com
Official Facebook: http://Facebook.com/DopeMovie
Official Twitter: http://Twitter.com/DopeMovie
Official Instagram: http://Instagram.com/DopeTheMovie
YouTube: http://YouTube.com/OpenRoadFilms
Official Snapchat: DopeMovie
CONTACT: HUFF Events & PR
Michelle Huff Elliott
michelle@huffent.com
917-405-3453
https://www.nicecrowd.com/wp-content/uploads/2015/05/DOPE-Poster-full.jpg
1206
814
nicecrowd
https://www.nicecrowd.com/wp-content/uploads/2023/06/Nice-Crowd.png
nicecrowd
2015-05-18 10:54:38
2015-05-18 10:54:38
DIRECTOR RICK FAMUYIWA'S "DOPE" TO HOST ITS NY PREMIERE AT THE 19th AMERICAN BLACK FILM FESTIVAL (ABFF) ON JUNE 11, 2015