The 2022 American Black Film Festival Announces Best of the ABFF Awards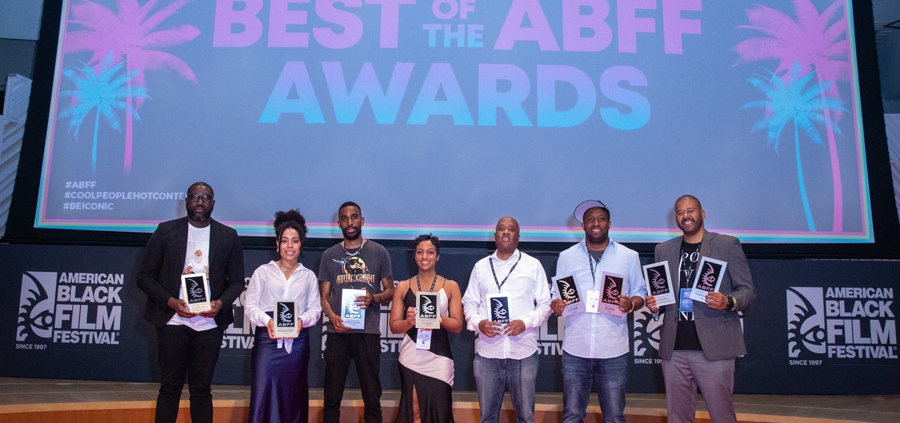 [rev_slider alias="2022-ABFF-Award-Winners-Release"][/rev_slider]
Emmy-nominated Actor/Author Dondré Whitfield Hosted the Inspiring Celebration of Winners
LOS ANGELES, (June 27, 2022) – The 2022 American Black Film Festival (ABFF) today announced the Best of the ABFF Award winners. The spirited and inspirational presentation hosted by three-time Emmy-nominated actor and author Dondré Whitfield was an on-point wrap to the exhilarating five-day festival with producer/director/actress Issa Rae the Festival Ambassador. The 26th annual festival returned live to Miami, June 15-19 and continues virtually through June 30 with independent films, the Best of the ABFF Awards and more programming on its custom-designed online platform ABFF PLAY (https://abffplay.com/).
The Best of ABFF Awards include winners in the official film selection categories — narrative and documentary features, web series and the 25th HBO Short Film Award Showcase, as well as its talent pipeline program comprised of national casting and writing competitions.
The Jury Award winners are:
Best Narrative Feature – Our Father, the Devil
Produced by Ellie Foumbi, Joseph Mastantuono; Directed by Ellie Foumbi
Prize: $2,500, presented by Sony Pictures Entertainment
Best Director, Narrative Feature – Kali Baker-Johnson, Feel Like Ghosts
Prize: $5,000, presented by Cadillac
Best Screenplay, Narrative Feature – Feel Like Ghosts
Written by Kali Baker-Johnson
Prize: $2,500, presented by TV One
John Singleton Award – Best First Feature – Our Father, The Devil
Directed by Ellie Foumbi
Prize: $5,000, presented by Netflix
Best Documentary Feature – A Woman on the Outside
Produced by Kiara C. Jones, Zara Katz, Lisa Riordan Seville; Directed by Zara Katz, Lisa Riordan Seville
Prize: $2,500, presented by Prime Video
Best Web Series – Mine
Directed by Randall Dottin, Luisa Dantas
Prize: $2,500, presented by Comcast NBCUniversal
HBO Short Film Award – Another Country
Directed by Sherif Alabede
Prize: $10,000 for winner, $5,000 each for four finalists presented by Warner Bros. Discovery
The Talent Pipeline Program winners are:
ALLBLK's Shoot Your Shot Casting Call – Javon Terrell
Prize: Role in upcoming ALLBLK Original series Judge Me Not
Warner Bros. Discovery Writers Initiative, One-Hour Drama
Deion Higginbotham – The Saints
Prize: $5,000
Warner Bros. Discovery Writers Initiative, Half-Hour Drama
Diara Newman – Townhall
Prize: $5,000
The Fan Favorite as determined by the ABFF's audience presented by American Airlines will be announced on the ABFF social platforms on July 1.
ABFF winners will also receive a one-year IMDbPro membership, empowering them with infor-mation and tools designed to help them continue achieving success in their careers. Celebrating its 20th anniversary, IMDbPro is the essential resource for entertainment industry professionals. IMDbPro has an ongoing commitment to supporting and collaborating with organizations that create greater diversity, equity and inclusion in the entertainment industry and is a service of IMDb, the #1 movie website in the world.
ABFF sponsors and partners include Warner Bros. Discovery & HBO® (Founding); Cadillac, City of Miami Beach, Greater Miami Convention & Visitors Bureau (GMCVB), Sony Pictures Entertainment, Prime Video (Presenting); American Airlines, Comcast NBCUniversal, Meta, Bounce TV, Black Experience on Xfinity, UPS, IMDb (Premier); ALLBLK, Prudential Financial, Variety, TV One, Netflix, Starz, Disney+, Onyx Collective (Official); Accenture, Motion Pictures Association (MPA), A&E, The SpringHill Company, The Boston Globe, Color Of Change, Con-fluential Films, Arrington & Phillips, Fulton Films, BET Her, Morgan Stanley, Miami Beach VCA, Frankfurt Kurnit Klein & Selz, Academy of Motion Picture Arts and Sciences (Supporting); En-deavor Content and DC Office of Television (Industry).
For more information about ABFF, visit www.abff.com. Follow @ABFF on Twitter and @AmericanBlackFilmFestival on Instagram and Facebook.
---
ABOUT ABFF
The American Black Film Festival (ABFF) is an annual event dedicated to recognizing Black tal-ent and showcasing quality film and television content by and about people of African descent. Dedicated to the belief that diverse artists deserve the same opportunities as their mainstream counterparts, ABFF founder Jeff Friday conceived the festival in 1997 as a vehicle to strengthen the Black entertainment community by fostering resource sharing, education and artistic collab-oration. Now in its 26th year, the festival has become a cornerstone of diversity in Hollywood, providing a platform for emerging Black artists – many of whom have become today's most suc-cessful actors, producers, writers, directors and stand-up comedians. The ABFF is a property of ABFF Ventures LLC, an entertainment company specializing in the production of live events that promote Black culture and achievement.
---
Media Contact:
Chelsye J. Burrows
Jeff Friday Media (JFM) and ABFF Ventures LLC
[email protected]
https://www.nicecrowd.com/wp-content/uploads/2022/06/news-Best-of-ABFF-Winners-2022.jpg
650
900
nicecrowd
https://www.nicecrowd.com/wp-content/uploads/2023/06/Nice-Crowd.png
nicecrowd
2022-06-27 16:07:48
2022-06-27 16:07:48
The 2022 American Black Film Festival Announces Best of the ABFF Awards