The American Black Film Festival's International Screening Series Returns to the UK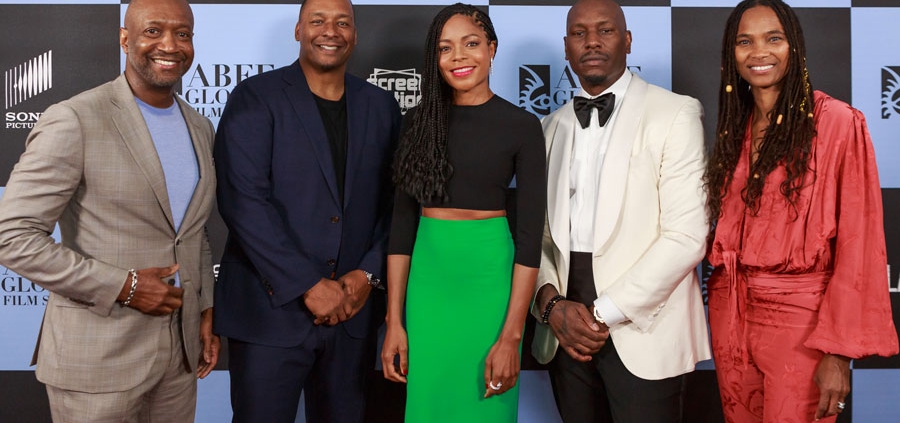 Photo from Black and Blue premiere at the last installment of ABFF Global From left to right: Jeff Friday, Founder and CEO, ABFF Ventures LLC, Deon Taylor, Director, Black and Blue, Naomie Harris, actress, Black and Blue, Tyrese Gibson, actor, Black and Blue, Nicole Friday, President, ABFF Ventures LLC
Presented in Partnership with Sony Pictures Entertainment, ABFF Global Will be Held During London's 5th Annual S.O.U.L. Fest September 16 – 18 Opening Festivities Kick off at the British Film Institute
LOS ANGELES, (July 26, 2022) – The American Black Film Festival (ABFF), premier platform in the U.S. showcasing films and series of Black Americans, travels to the U.K. September 16-18, 2022, for its international screening series. Presented by ABFF Ventures LLC and Sony Pictures Entertainment (SPE) in association with the British-based S.O.U.L. Fest, a film festival serving Black audiences, this second installment of the ABFF Global series will feature screenings, panel discussions and networking with London-based content creatives. The events will be held at the British Film Institute (BFI) and other venues around London during the 5th annual S.O.U.L. Fest.
"ABFF is rooted in building bridges and fostering alliances between Black content creators around the world. SPE's support of ABFF Global has allowed us to further this mission," said Jeff Friday, ABFF Founder and CEO ABFF Ventures, LLC. "We have a deep respect for the S.O.U.L. organization and appreciate them welcoming us to be a part of their annual event."
"We are delighted to partner with the ABFF, an organisation we have long admired and been inspired by," said Iyare Igiehon, director, S.O.U.L. Fest. "We established S.O.U.L. Fest with an ethos of community and have found Jeff Friday and the ABFF team share our values and our desire to forge links across the African diaspora. This collaboration will bring about greater experiences for audiences, open up opportunities for the talent and support and further strengthen the UK as a node on the global Black cinematic network."
"Sony Pictures is proud to, once again, partner with ABFF and its impactful work showcasing the amazing work of emerging Black artists, said Paul Martin, Chief Diversity Officer, Sony Pictures Entertainment. "We are excited that this September's global event in London, programmed in association with S.O.U.L Fest, aims to reach an even larger global audience with its screenings, panel discussions, and networking events."
Launched in 2019 in partnership with Sony Pictures Entertainment the series, an extension of ABFF, promotes the universal appeal of Black content and encourages collaboration between artists throughout the African diaspora, with the objective of expanding distribution opportunities for Black content on an international scale. Future installments of the series will be presented in other major cultural hubs, including Madrid, Abu Dhabi, Paris and Gaborone.
Sponsors to date of ABFF Global include Global Sony Pictures Entertainment (Founding) and American Airlines (Official).
For information visit, https://www.abffglobal.com/.
---
About the American Black Film Festival
The American Black Film Festival (ABFF) is an annual event dedicated to empowering black artists and showcasing quality film and television content by and about people of African descent. Committed to the belief that diverse artists deserve the same opportunities as their mainstream counterparts, ABFF founder & CEO Jeff Friday conceived the festival in 1997 as a vehicle to strengthen the Black filmmaking community by encouraging resource sharing, education and artistic collaboration. He ultimately envisioned it as a cornerstone of diversity in Hollywood. Since its inception, the ABFF has been a platform for emerging Black artists, having premiered the early work and showcasing the talent of many of today's most successful actors, producers, writers, directors and stand-up comedians. Today, the festival is the pre-eminent pipeline for Black artists in front of and behind the camera and has significantly expanded the range of talent working in Hollywood.
About S.O.U.L. Fest
A celebration of Black British talent in film, showcasing new work by Black British film creatives and allowing audiences the opportunity to see a diverse representation of Britain. Brought to you by S.O.U.L Celebrate Connect, The British Blacklist and We Are Parable, this is S.O.U.L. Fest.
About Sony Pictures Entertainment
Sony Pictures Entertainment (SPE) is a subsidiary of Tokyo-based Sony Group Corporation. SPE's global operations encompass motion picture production, acquisition, and distribution; television production, acquisition, and distribution; television networks; digital content creation and distribution; operation of studio facilities; and development of new entertainment products, services and technologies. Sony Pictures Television operates dozens of wholly-owned or joint-venture production companies around the world. SPE's Motion Picture Group production organizations include Columbia Pictures, Screen Gems, TriStar Pictures, 3000 Pictures, Sony Pictures Animation, Stage 6 Films, AFFIRM Films, Sony Pictures International Productions, and Sony Pictures Classics. For additional information, visit https://www.sonypictures.com/corp/divisions.html
---
Media Contact:
Chelsye J. Burrows
Jeff Friday Media (JFM) and ABFF Ventures LLC
[email protected]
https://www.nicecrowd.com/wp-content/uploads/2022/07/news-ABFF-Global-Announcement.jpg
650
900
nicecrowd
https://www.nicecrowd.com/wp-content/uploads/2023/06/Nice-Crowd.png
nicecrowd
2022-07-26 11:00:36
2022-07-26 11:00:36
The American Black Film Festival's International Screening Series Returns to the UK