The 25th American Black Film Festival Shifts to an Online Global Event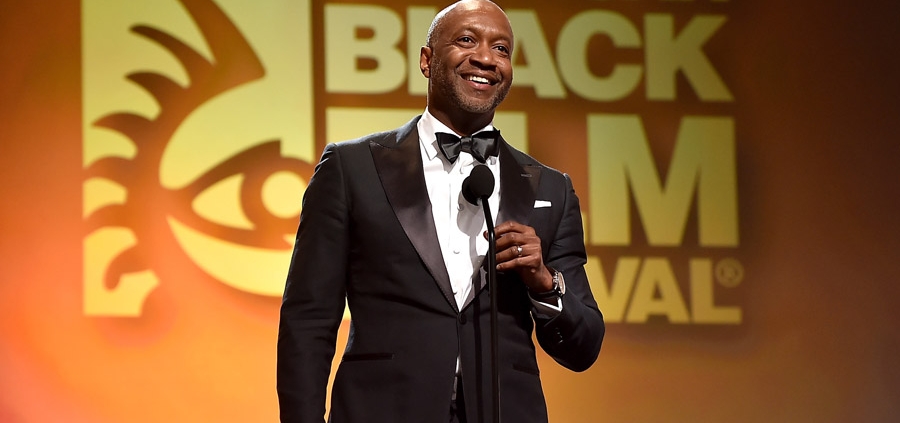 Full Schedule of Independent Screenings, Talks and Industry Panels Will Be Available Complimentary
LOS ANGELES, CA, (August 26, 2021) – The 2021 American Black Film Festival (ABFF) will shift from a hybrid to a totally virtual event, it was announced today by Jeff Friday Media (JFM) and ABFF Ventures LLC. The festival, which runs November 3 to 14, 2021, will be available digitally via its custom-designed online platform ABFFPlay.com (https://abffplay.com) providing global access for artists, movie enthusiasts and audiences to come together to celebrate ABFF's 25th year of showcasing the best in Black cinema and television.
Over the course of the twelve-day festival, ABFF's complete lineup of independent films, network and studio previews, panels, master classes and other virtual experiences will be streamed on its platform with select content available via Facebook and various social media platforms. The festival, along with its local partners, the Greater Miami Convention and Visitors Bureau and the City of Miami Beach, will activate film-related happenings throughout the year for the South Florida community.
"As we were enthusiastically planning our 25th anniversary celebration and return to Miami Beach, we couldn't ignore the ongoing spread of COVID-19 and now the Delta variant. Our national health crisis is at the forefront of our minds and we must responsively adapt. For the health and safety of our attendees, supporters and staff, we've made the difficult decision to pivot to a virtual event this year," said Jeff Friday, CEO Jeff Friday Media and founder, ABFF Ventures LLC. "Despite this change, our programming will not be compromised, We are pleased to present ABFF 2021 as a free, worldwide digital experience and we look forward to watching and enjoying this year's festival as much as ever!"
"ABFF 25 will not disappoint on our promise to deliver inspiring and dynamic programs," added Nicole Friday, president, ABFF Ventures LLC. "With our unique global broadcast platform, we celebrate our 25-year journey of uplifting voices, sharing the talent of hundreds of artists and fostering a stronger Black entertainment community. We are grateful to our outstanding corporate sponsors and partners for their unwavering support of ABFF and its important mission over the years."
The festival previously announced its 2021 official selections — an impressive collection of films and web series by emerging and established artists from countries including Brazil, South Africa, Canada, Namibia, the United Kingdom and the USA. Film producer and ABFF alumnus Will Packer (Girls Trip, Ride Along), as the festival's 2021 Jury President, will oversee the voting process.
ABFF attracts an increasingly broad audience, which has grown with virtual access and wants to continue the momentum. In 2020, over 54,000 people representing over 90 countries attended the festival via ABFF PLAY. In previous years, the festival has attracted approximately 10,000 celebrity talent, emerging artists, upscale consumers and industry stakeholders to travel to Miami Beach for the annual live event.
ABFF sponsors to date include HBO® (Founding) WarnerMedia, Cadillac, Greater Miami Convention & Visitors Bureau (Presenting) Comcast NBCUniversal, Sony Pictures Entertainment, American Airlines, AT&T, ALLBLK (Premier) City of Miami Beach, Netflix, Yahoo!, Variety (Official) Accenture, Motion Picture Association (MPA) (Supporting). Media partners include TheGrio and Rolling Out.
For festival information, visit https://www.abff.com/miami/ and follow @ABFF on Twitter and @AmericanBlackFilmFestival on Instagram and Facebook. Join in on the conversation by using #ABFF.
---
ABOUT ABFF
The American Black Film Festival (ABFF) is an annual event dedicated to recognizing Black talent and showcasing quality film and television content by and about people of African descent. Dedicated to the belief that diverse artists deserve the same opportunities as their mainstream counterparts, ABFF founder Jeff Friday conceived the festival in 1997 as a vehicle to strengthen the Black entertainment community by fostering resource sharing, education and artistic collaboration. Now in its 25th year, the festival has become a cornerstone of diversity in Hollywood, providing a platform for emerging Black artists – many of whom have become today's most successful actors, producers, writers, directors and stand-up comedians.
ABOUT JEFF FRIDAY MEDIA
Jeff Friday Media (JFM) is a Los Angeles-based entertainment company producing events, film and television focused on Black and Brown culture. Its mission is to create live experiences and content that convey aspects of humanity and achievement often dismissed or overlooked, in the portrayal of people of color in popular entertainment. As part of its formation, JFM acquired ABFF Ventures LLC, an organization recognized in the Hollywood community for creating platforms that showcase and promote distinctive Black and Brown talent. Its tent-pole properties are the American Black Film Festival and ABFF Honors, both founded by JFM CEO Jeff Friday. In 2020, JFM secured a motion picture development deal with Sony Pictures Entertainment and launched ABFF PLAY, a live and on-demand streaming service featuring free and pay-per-view content. JFM recently announced a scripted television partnership with Endeavor Content and POV.
---
MEDIA CONTACT:
Chelsye J. Burrows
Jeff Friday Media (JFM) and ABFF Ventures LLC
[email protected]
https://www.nicecrowd.com/wp-content/uploads/2021/08/virtual-announcement.jpg
650
900
nicecrowd
https://www.nicecrowd.com/wp-content/uploads/2023/06/Nice-Crowd.png
nicecrowd
2021-08-26 17:50:03
2021-08-26 17:50:03
The 25th American Black Film Festival Shifts to an Online Global Event