The American Black Film Festival (ABFF) Announce the Finalists in the 5th Annual Comedy Wings Competition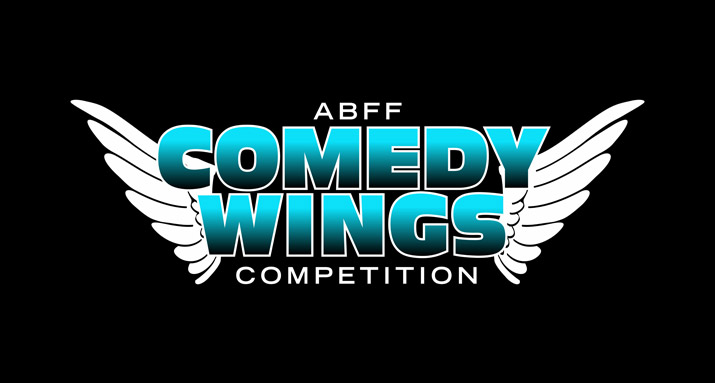 EMERGING COMEDIANS WILL COMPETE FOR THE TOP SPOT AT THE 2017 ABFF IN MIAMI ON FRIDAY, JUNE 16
New York, New York (April 21, 2017) – The American Black Film Festival (ABFF) announced today their selection of finalists who will compete at the 5th annual Comedy Wings Competition, presented by HBO, during the American Black Film Festival in Miami June 16th at The New World Center. Each finalist will also receive an all-expense paid trip to Miami and attend a meeting with HBO talent executives.
Last night, the semi-finalists fought for the five finalist spots at the Uptown Comedy Club in Atlanta, hosted by comedian and radio host Rodney Perry. They were judged by accomplished artists and industry executives, including "Def Comedy Jam" producer Bob Sumner; Owner & Chief Managing Partner of Winsome Sinclair & Associates, Winsome Sinclair; television executive and producer Rikki Hughes; Executive Producer at Bobbcat Film, Angi Bones; and television executive Tracey Tooks.
"The Comedy Wings Competition has been a dynamic partnership with HBO and has created a pathway to opportunities within the industry for emerging comedians. Over the past five years, we have discovered talented comedians whose careers have catapulted because of the competition," says ABFF Ventures CEO, Jeff Friday.
"HBO has been proudly supporting the Comedy Wings Competition for the past 5 years," said Dennis Williams, Vice President of Corporate Social Responsibility, HBO. "We are thrilled to be able to open doors and provide opportunities to unique and groundbreaking comedic talent. We know that the comedians showcased here are well on their way to future success. "
Our aspiring finalists come from across the United States and backgrounds vary. See our complete list below:
Brandall Cole
Blowing in from the windy city, comedian, actor, director and producer B. Cole has spent the past decade molding himself as one of these generations' greatest entertainers. Starting his career at a young age B. Cole has performed at clubs and colleges all over the United States. He made his television debut at the age of twenty on BET's Comic View, hosted by D. L. Hughley. B. Cole reached a pinnacle when he was awarded his own one-hour Grandstand Special on BET's Comic View. He was a founding member of The Second City's first urban sketch comedian ensemble Forgotten City.
Cyrus Steele II
Cyrus Steele has been performing onstage for years as a Theater major, but fell in love with stand-up comedy soon after graduating from college. Growing up in the small town of Savannah, GA, there weren't a lot of outlets for an aspiring comic. So in 2005, Cyrus moved to Atlanta in the hopes of finding a career in comedy. Since then, he has established himself as a hilarious force of nature and master impressionist, imitating everyone from Kevin Hart, to Barack Obama and even Donald Trump! Dedicated to giving his audience more than a show, Cyrus most recently won the title of "The South's Funniest Accountant" at Marietta's "Rev'd Up Comedy Showcase."
Jason Weems
A native of Baltimore, Jason Weems is striving to become a comedic great. His very engaging and conversational style on stage, leaves audiences feeling like they've just finished talking to a close friend, and it simultaneously acts as free therapy for him. Jason has been seen at the most prestigious "By Invitation Only" comedy festival, The "Just For Laughs" festival in Montreal and recently added a featured semi-finalist credit to his name on the hit NBC series "Last Comic Standing." In December 2010, he filmed his first hour comedy special entitled Jason Weems, Vol. 1: Intellectual Property in his hometown of Baltimore, Maryland, which has been released independently.
Shereen Kassam
She calls herself the, "Funny Brown Girl", and that is exactly what she is. Much of Shereen's comedy is focused on her relationship with her Muslim parents. She also draws on her dating experiences as an intelligent, beautiful woman, and has no problem spilling all. She is a regular host on iHeart Media's "Monsters in the Morning" talk radio show.
TuRae Gordon
TuRae's comedy career began in the 1990's while attending Temple University. Encouraged by friends, he entered and won his first open mic competition at the famous Philadelphia Laff House. The club immediately named him house MC, providing the opportunity to develop his thoughtful and unique point of view. Drawing on his urban upbringing and experiences, he demonstrates an engaging and earnest style of comedy with broad appeal. In 2007, he traveled to London, England where he won the World Cup Comedy Clash at London's Hackney Empire Theater. TuRae headlines clubs and colleges and has competed in and won a number of competitions including the Def Jam Comedy Competition and The WB's, Comedy After Midnight.
The Comedy Wings Competition is one of several platforms innovated by the ABFF designed to uncover talent and introduce them to a broader audience. ABFF has always participated in the cultivation of Black talent and has provided a stage over the years for dynamic performers such as Kevin Hart, Cedric the Entertainer, Craig Robinson, Tommy Davidson and Bill Bellamy. To purchase passes, tickets for events, panels and screenings at the American Black Film Festival, log on to https://www.abff.com/miami/festival-passes/.
Join the conversation on social media by logging on to ABFF's multiple social media platforms:
Sponsors for the American Black Film Festival are HBO® (Founding and Presenting Sponsor); Greater Miami Convention & Visitors Bureau (Host and Presenting Sponsor); TV One, Cadillac (Presenting Sponsors); Comcast NBCUniversal, Prudential Financial, Turner, BET (Premier Sponsors); American Airlines, ASPiRE, Codeblack Films, Motion Picture Association of America (MPAA), Sundial Brands, Verizon (Official Sponsors); and Planned Parenthood of America, Time Warner and OWN (Supporting Sponsors); Motion Picture Editors Guild, SAGIndie, Streampix, Walter Kaitz Foundation (Industry Partners).
---
ABOUT ABFF:
The American Black Film Festival (ABFF) is an annual event dedicated to showcasing quality film and television content by and about people of African descent. It supports emerging artists to foster a wider range of images, stories and storytellers represented in the entertainment industry. The festival is committed to the belief that Black artists and content creators deserve the same opportunities as their mainstream counterparts. ABFF founder Jeff Friday conceived the festival in 1997 as a vehicle to promote diversity in the motion picture industry, and strengthen the Black filmmaking community through resource sharing, education, artistic collaboration and career development. Today, the ABFF is recognized as the preeminent pipeline to new Black talent, both in front of and behind the camera, and is regarded as one of the leading film festivals in the world. The ABFF is a property of ABFF Ventures, a multifaceted entertainment company specializing in the production of live events, television and digital content targeted to upscale African American audiences.
---
PRESS CONTACT:
Michelle Huff Elliott
Strategic Heights Media
[email protected]
212-634-7176
https://www.nicecrowd.com/wp-content/uploads/2017/04/Comedy-Wings-logo-LN.jpg
383
715
nicecrowd
https://www.nicecrowd.com/wp-content/uploads/2023/06/Nice-Crowd.png
nicecrowd
2017-04-21 10:13:17
2017-04-21 10:13:17
The American Black Film Festival (ABFF) Announce the Finalists in the 5th Annual Comedy Wings Competition