HBO Orders 'Storm Over Brooklyn' Doc from ABFF and 'Whitney' Producers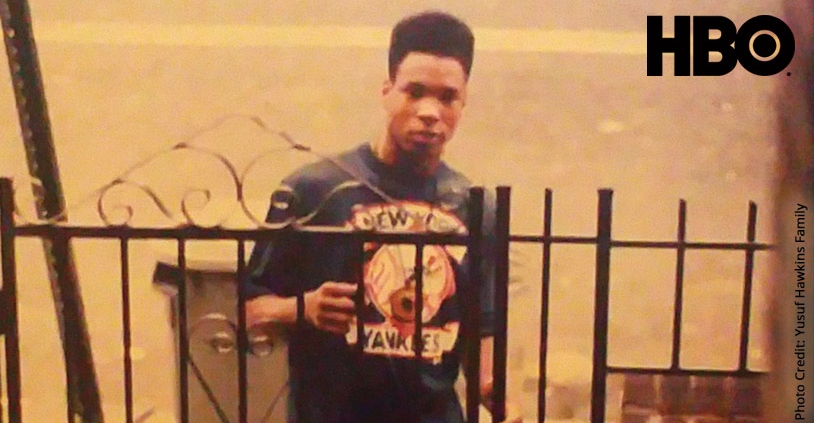 Directed by Muta'Ali, this is the first project from the initiative created in 2017 by award-winning non-fiction production company, Lightbox, and the American Black Film Festival (ABFF) to foster diversity in documentary filmmaking.
ABFF and Lightbox announce second year of the initiative to discover and support emerging African American documentary directing talent.
Miami, (June 18, 2018) – HBO has greenlit Storm Over Brooklyn, the winning project of the inaugural Feature Documentary Initiative created in 2017 by award-winning production company Lightbox and the American Black Film Festival (ABFF), as part of their joint initiative to foster diversity in the feature documentary arena.
Storm Over Brooklyn is a feature documentary, directed by Muta'Ali and tells the story of Yusuf Hawkins, a black American teenager who was shot and murdered after being trapped by a group of white youths in Bensonhurst, Brooklyn, on the evening of August 23, 1989. Sixteen-year-old Hawkins had come to Bensonhurst with three friends to look at a used car, when they were attacked by the hostile mob, whose members mistakenly believed that Hawkins was dating a neighborhood girl who was white. The incident shocked New York and the world and unleashed a torrent of racial tension in an already divided city and led to televised protests and marches. The growing unrest contributed to the ousting of New York City Mayor Ed Koch in favour of David Dinkins, who became the city's first — and as of now, only — African American mayor.
Storm Over Brooklyn was conceived by director Muta'Ali and selected from more than 300 submissions to the initiative, which was open to all African American documentary filmmakers and any documentary filmmakers interested in exploring non-fiction stories and themes that speak directly to the African American experience.
Muta'Ali said: "Yusuf Hawkins' murder had a major effect on the public, and the locked away regret and sorrow questions a history that those involved have held onto for nearly 30 years. We will finally see the light of day in the context of our time. This is due to the courage of Yusuf's loving family, as well as the visionary talent teams at HBO, Lightbox and ABFF."
"We are genuinely thrilled that HBO has greenlit Storm over Brooklyn – a powerful, timely film which feels so relevant to today's audience even though the events it depicts took place 30 years ago," said Lightbox co-founders Jonathan Chinn and Simon Chinn. "Muta'Ali is a talented and passionate director who is perfectly placed to bring this highly relevant story to the screen and we are proud to support his vision. We are delighted to be working once again with our friends at HBO Documentary Films whose reputation for high-quality, thought-provoking documentaries make it the perfect home for this project and we're honoured to be working in partnership with them to nurture and support new, diverse creative talent."
"It's an honor to partner with HBO Documentary Films on Storm Over Brooklyn which is a natural extension of the ABFF HBO relationship. Together, we have been fostering diverse storytellers in the narrative space for 22 years. Expanding into the documentary space and production is a very exciting opportunity for ABFF and the filmmakers who come through our talent pipeline programs. We could not have wished for a more fitting home than HBO," said Jeff Friday, Founder & CEO of ABFF Ventures, LLC.
Lightbox and the ABFF announced today that the second year of this multi-year program will open for entries on July 18, 2018. Go to www.abffventures.com for more information. Selected films will be developed and produced by Lightbox and ABFF Studios, leveraging Lightbox's success in producing award-winning and commercially successful documentaries, with the ABFF's unparalleled pipeline and record of accomplishment for identifying many of the industry's most promising Black filmmakers. This collaboration will help to elevate unique perspectives and vision in the documentary space.
Storm Over Brooklyn is directed by Muta'Ali and executive produced by Jeff Friday, Simon Chinn and Jonathan Chinn. Academy Award®-winning directors Daniel Lindsay and TJ Martin, who directed Lightbox's Emmy® award-winning feature documentary about the 1992 Los Angeles riots, LA 92, have also come on board the project as Executive Producers and supporters of the initiative.
Lightbox was founded by Academy Award®-winning producer Simon Chinn (Man on Wire, Searching for Sugar Man, Whitney) and Emmy® award-winning producer Jonathan Chinn (LA 92, Fantastic Lies, Whitney).
Lightbox's Whitney, the theatrical feature documentary about the global superstar, directed by Academy Award® winner Kevin Macdonald, screens at the American Black Film Festival this week ahead of its nationwide US release on July 6th. The company recently announced a new theatrical feature documentary, Tina Turner (working title), which will tell the full story – for the first time – of the global icon and undisputed Queen of Rock and Roll, to be directed by Dan Lindsay and TJ Martin.
---
Media Contact:
For Lightbox
Mark Ogle, OH Communications: +44 (0) 7789 981 561; [email protected]
For ABFF
Michelle Huff Elliott, Strategic Heights Media, 212-634-7176; [email protected]
Notes to editors:
Information about entries for the second competition will be made available on the ABFF websites shortly.
Jeff Friday and Lightbox are represented by Creative Artists Agency (CAA).
---
ABOUT LIGHTBOX:
Headquartered in London and Los Angeles, Lightbox is a multi-platform media company creating high quality non-fiction content for an array of distribution platforms. It was founded by two-time Academy Award®-winning producer Simon Chinn (Man on Wire, Searching for Sugar Man, Whitney) and Emmy®-winning producer Jonathan Chinn (LA 92, American High, Whitney). Lightbox's most recent release is Whitney, a major theatrical feature documentary directed by Academy Award® winner Kevin Macdonald, which premiered at the Cannes Film Festival; The company is currently in production on Diagnosis (w/t) an innovative Netflix Original eight-part documentary series produced in partnership with Scott Rudin Productions and The New York Times; Citizen Harvey (w/t) a theatrical documentary on the Weinstein scandal which will also air on BBC 2; Tina Turner (w/t), a theatrical feature documentary which will tell the full story – for the first time – of global icon and undisputed Queen of Rock and Roll, directed by Academy® and Emmy Award winners Dan Lindsay and TJ Martin; Gypsy's Revenge, a feature length documentary for Investigation Discovery and Food Exposed with Nelufar Hedayat (8×60′) for US Network FUSION. The company has previously produced documentary series including Captive, a major 8-part series for Netflix about international hostage crises; LA92, an Emmy-winning feature documentary on the 1992 LA riots for National Geographic Channels; War Child – an acclaimed feature documentary on the refugee crisis for Channel 4; Absolutely Fashion: Inside British Vogue for BBC Two and The Traffickers for Fusion, as well as content for Xbox Entertainment Studios, NBC Universal's Esquire Network and ESPN's prestigious 30 for 30 Strand.
ABOUT ABFF:
The American Black Film Festival (ABFF) is an annual event dedicated to showcasing quality film and television content by and about people of African descent. The festival is committed to the belief that Black artists and content creators deserve the same opportunities as their mainstream counterparts. ABFF founder Jeff Friday conceived the festival in 1997 as a vehicle to promote diversity in the motion picture industry, and strengthen the Black filmmaking community through resource sharing, education, artistic collaboration and career development. For more than two decades, the ABFF has been the standard-bearer of excellence in independent Black cinema, having premiered the works and supported the careers of many of today's most successful artists, including Ryan Coogler (Black Panther), Anthony Anderson (Blackish), Will Packer (Girls Trip), Issa Rae (Insecure), Omari Hardwick (Power) and Raoul Peck (I Am Not Your Negro). Today, it is the preeminent pipeline for Black talent, in front of and behind the camera, significantly expanding the range of talent in the entertainment industry at large. The ABFF is a property of ABFF Ventures LLC, a multifaceted entertainment company specializing in the production of live events, television and digital content, targeted to upscale African American audiences. The company is a joint venture between Film Life Inc. and Black Enterprise, two prominent media and event companies, each with legacies of showcasing the best of African American culture and achievement in media and entertainment.
https://www.nicecrowd.com/wp-content/uploads/2018/06/Yusef-Hawkins-HBO-top.jpg
436
814
nicecrowd
https://www.nicecrowd.com/wp-content/uploads/2023/06/Nice-Crowd.png
nicecrowd
2018-06-18 09:39:36
2018-06-18 09:39:36
HBO Orders 'Storm Over Brooklyn' Doc from ABFF and 'Whitney' Producers