The American Black Film Festival (ABFF) Announces New Writing Competition in Partnership with truTV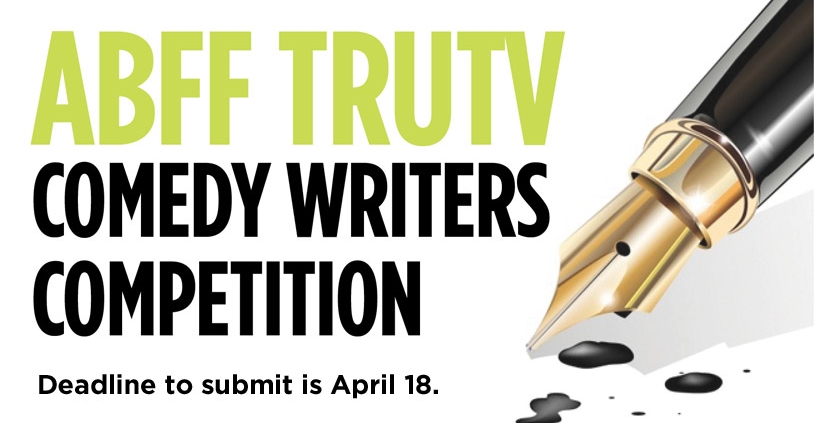 COMPETITION PROVIDES COMEDY WRITERS A CHANCE AT THEIR BIG BREAK
THE 22ND ANNUAL ABFF RETURNS TO MIAMI JUNE 13 – 17, 2018
New York, New York (April 5, 2018) – The 22nd Annual American Black Film Festival, (ABFF) taking place in Miami, Florida June 13-19, 2018, is thrilled to announce a new talent pipeline program, in partnership with truTV: the ABFF® truTV Comedy Writers Competition.
The first-ever ABFF® truTV Comedy Writers Competition is searching for the next generation of comedic voices and will provide a unique opportunity for a content creator to develop a project with truTV. Each competitor will be required to submit a paper-developed half-hour comedic format (1-2 page document), consisting of a logline of the show premise, the type of format, the talent leading the show and the show overview. truTV is a comedy network, so it's all about leaning into the comedy first. For inspiration, submitters are encouraged to research existing truTV original programming formats, including Impractical Jokers, Comedy Knockout, Hack My Life and Laff Mobb's Laff Tracks.
For additional information on these competitions and to submit an application, please visit: https://www.abff.com/miami/trutv-comedy-writers-competition/.
Follow ABFF on its social media platforms:
Sponsors for the 2018 American Black Film Festival are HBO® (Founding and Presenting Sponsor); Greater Miami Convention & Visitors Bureau (Host and Presenting Sponsor); TV One, Cadillac, Comcast NBCUniversal (Presenting Sponsors); BET, Turner (Premier Sponsors); American Airlines, Codeblack Films, MPAA, Verizon (Official Sponsors); Gentleman Jack, LOL Networks, and truTV (Supporting Sponsors); and SAGIndie, Walter Kaitz Foundation (Industry Partners).
---
ABOUT ABFF:
The American Black Film Festival (ABFF) is an annual event dedicated to showcasing quality film and television content by and about people of African descent. The festival is committed to the belief that Black artists and content creators deserve the same opportunities as their mainstream counterparts. ABFF founder Jeff Friday conceived the festival in 1997 as a vehicle to promote diversity in the motion picture industry, and strengthen the Black filmmaking community through resource sharing, education, artistic collaboration and career development. For more than two decades, the ABFF has been the standard-bearer of excellence in independent Black cinema, having premiered the works and supported the careers of many of today's most successful artists, including Ryan Coogler (Black Panther), Anthony Anderson (Black-ish), Will Packer (Girls Trip), Issa Rae (Insecure), Omari Hardwick (Power) and Raoul Peck (I Am Not Your Negro). Today, it is the preeminent pipeline for Black talent, in front of and behind the camera, significantly expanding the range of talent in the entertainment industry at large. The ABFF is a property of ABFF Ventures LLC, a multifaceted entertainment company specializing in the production of live events, television and digital content, targeted to upscale African American audiences. The company is a joint venture between Film Life Inc. and Black Enterprise, two prominent media and event companies, each with legacies of showcasing the best of African American culture and achievement.
ABOUT truTV:
truTV is the home for original, creator-driven comedy series with a distinct point of view. With millions of engaged fans across linear, digital and social channels, the cable network features a growing roster of critically-acclaimed premium scripted, non-scripted and hybrid series, such as Adam Ruins Everything, At Home with Amy Sedaris, Bobcat Goldthwait's Misfits & Monsters, Hack My Life, I'm Sorry, Impractical Jokers, Jon Glaser Loves Gear, Talk Show the Game Show, The Carbonaro Effect, The Chris Gethard Show, Those Who Can't and more. As a division of Turner, truTV is also a partner in airing the NCAA Division I Men's Basketball Championship each year.
Turner, a Time Warner company, is a global entertainment, sports and news company that creates premium content and delivers exceptional experiences to fans whenever and wherever they consume content. These efforts are fueled by data-driven insights and industry-leading technology. Turner owns and operates some of the most valuable brands in the world, including Adult Swim, Bleacher Report, Boomerang, Cartoon Network, CNN, ELEAGUE, FilmStruck, Great Big Story, HLN, iStreamPlanet, Super Deluxe, TBS, Turner Classic Movies (TCM), TNT, truTV and Turner Sports.
---
PRESS CONTACT:
Strategic Heights Media
Michelle Huff Elliott
[email protected]
212-634-7176
https://www.nicecrowd.com/wp-content/uploads/2018/04/press-ABFF-TRUTV.jpg
436
814
nicecrowd
https://www.nicecrowd.com/wp-content/uploads/2023/06/Nice-Crowd.png
nicecrowd
2018-04-05 11:51:35
2018-04-05 11:51:35
The American Black Film Festival (ABFF) Announces New Writing Competition in Partnership with truTV